AM Solutions - 3D post processing technology is delighted to announce that leading digital manufacturing and 3D printing expert, Shapeways Inc., has invested in additive manufacturing (AM) post processing equipment from AM Solutions in its quest to evolve its service and continually optimise outcomes for its customers.
Shapeways is constantly investing in technologies and processes that help to automate their AM process chain. When considering post-processing automation, the company invested in systems from AM Solutions that would help save time, improve efficiencies and offer quality solutions to their growing enterprise customer base.
Andy Nied, Chief Operating Officer at Shapeways says, "Our enterprise customers require consistency and high quality, and so when we were looking for a post-processing supplier, we wanted well engineered post-processing machines, supporting superior finishing processes. Equally important was after sales support. We need a true partner relationship that ensures the machine and process are precisely aligned with our applications and any teething problems can be addressed and overcome in a timely fashion."
Jules Witte, Plant Manager at Shapeways Eindhoven-based facility says, "On a daily basis, Shapeways can process anything up to 2000 parts on an array of SLS and MJF powder-bed printers, some one-off parts, some in batches, and consisting of various geometries and perhaps requiring upwards of 20 different surface finishes. This means that an automated rather than a manual post-processing operation is vital, which is why we worked with AM Solutions to customize a machine to meet our needs."
Shapeways invested in AM Solutions S1 and S2 post processing machines. The S1 is a smart solution for cleaning and surface finishing all in one self-contained unit in one process step. The S1 is equipped with a blast media conditioning system for optimal and consistent quality of the blasting media. Moreover, it features a newly developed air management system which means even fewer deposits in the interior. The S1 comes with a basket designed for optimal distribution and tumbling of the parts. The constant rotation of the workpieces during the cleaning process ensures repeatable and consistent shot blasting results. The S1 is also compact and robust, which means it can be easily integrated into any production environment and offers maximum reproducibility, traceability, and cost efficiency.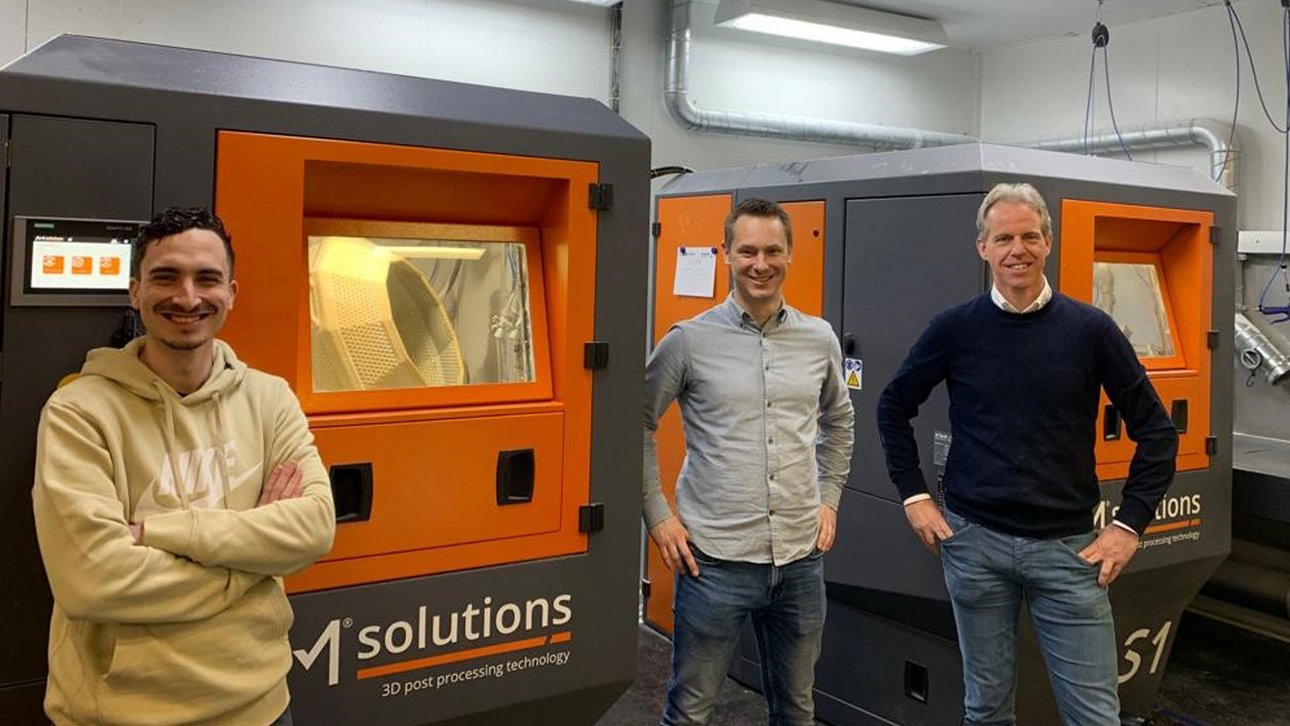 The S2 is a fully automatic post-processing solution for plastic parts produced using the powder bed process. Designed for 24/7 operation, the solution allows the output of several printers to be reworked in a day as it is able to process parts so quickly (with a typical 20-30 minute cycle time). Thanks to its unique part handling, the system is also suitable for very delicate parts and significantly reduces scrap, eliminating the cost of reprinting. A special loop belt enables individual part flow and particularly gentle workpiece handling, ensuring uniform cleaning, homogenization of the workpiece surface in continuous operation. The integrated abrasive recycling system guarantees consistently good processing results. The S2 also causes no discoloration of the parts, as the abrasive is conditioned and the loop belt is made of special polyurethane. The integrated abrasive recycling system and the automatic monitoring of the blasting process ensure that a reproducible result of high quality is achieved in short cycle times, both for larger components and for delicate and filigree parts.
Witte says, "The S1 is a great machine, the key being its useability. The size of the machine, and the fact that it separates the media from the powder removed from the AM parts means powder recycling is optimised. This saves cost, and it is an extremely clean machine to use. With the S2 we were part of the beta testing program, and what we found was that from a technology perspective it took a substantial step towards being a flow process which promoted automation, quality, and repeatability. This coupled with the large capacity of the machine were the key areas of interest. Through the use of the S1 and S2, average part cleaning time has reduced from 2 hours to 20-30 minutes, and we are able to reduce the number of machines we use to service our AM part production volumes from 6 to 3. This saves space, allows us to organise for more flow in the process, and saves energy (anything from 2-4 Megawatts per month)."
Using AM Solutions' technologies, Shapeways is able to reduce its cleaning and finishing from a two-step to a one-step process. Typically, in most post-processing solutions glass beads are used for depowdering, and then poly beads for finishing. However, AM Solutions S1 and S2 only use poly beads, meaning depowdering and finishing in one process step. This removes the necessity to use two machines or two different types of media if using one machine. The ability to eliminate glass bead blasting from the post-processing operation saves both time and money, and is another step towards automated process flow.