Partnership & Collaboration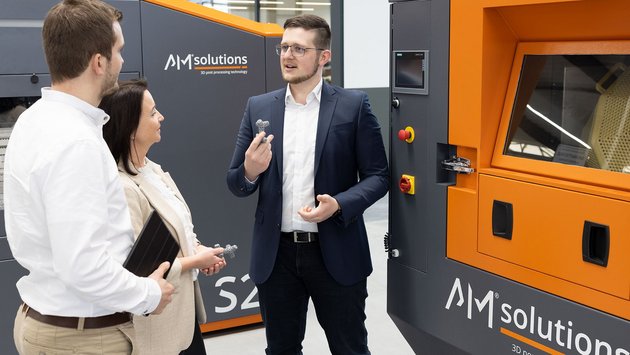 At AM Solutions – 3D post processing technology, we understand the fundamental meaning of partnership. Results are always better when knowledge is openly shared throughout a team, and this also allows us to be creative and find practical post-processing solutions for any AM application.
Our customers see AM Solutions as their strategic partner for the achievement of often exacting and challenging goals, playing on our long heritage, experience, and applications expertise in industrial post-processing. Whatever you AM related post-processing requirements, you will benefit from full and early-stage engagement with AM Solutions to optimise outcomes.
As your qualified product development partner, we promote innovative, customer-focused process development for AM operations, and we collaborate with you to ensure the optimal AM-suitable design of individual components. In other words, we champion design for post processing (DfPP)!
We provide a wide range of equipment for surface preparation and surface finishing of AM parts, and we also provide consumables that have been specifically developed for treating 3D printed components.
"With AM Solutions – 3D post processing technology we found a partner, who fully understood our demands and, jointly with us, developed an optimal solution for our post processing requirements."
Matthias Weißkopf, Senior Vice President Global Product & Technology Development at OECHSLER