Sustainability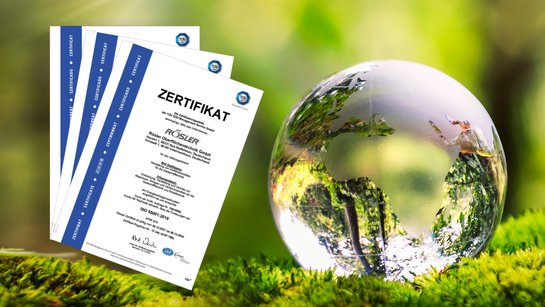 At AM Solutions - 3D post processing technology, we are committed to real sustainability, and we strive every day to meet international climate targets and to achieve a low-carbon economy by reducing CO2 emissions company wide.
Here are some of AM Solutions' certificates and initiatives focused on sustainability.
In 2016 and 2018, we were attained DIN EN ISO 50001 certification. DIN EN ISO 50001 supports businesses establishing a systematic energy management system.
Since 2021, we have been a member of the Carbon Disclosure Project (CDP), and we report to the non-profit organization annually. We fill out the questionnaire on climate change and also disclose our CO2 emissions. Our aim is to achieve a B in the CDP ranking by 2025.
We are members of the climate-friendly SME initiative Klimafreundlicher Mittelstand and we network with other companies on topics such as how we can work in a more climate-friendly way and reduce CO2 emissions.
Together with the Fraunhofer Institute for Intelligent Analysis and Information Systems IAIS, we have carried out a Climate Impact Check. This helps us to detect hidden fields of action relating to the topic of sustainability. Through this check, we have discovered, for example, that some resources are no longer available to us in the long term due to the changing climate.
Through the use of our photovoltaic systems in Bad Staffelstein and Untermerzbach, we generate about one million kilowatt hours of green electricity annually, which is used for our own energy requirements and for the charging station for our electric cars. Together with other smaller measures, we save around 600 tons of CO2 each year.
We operate energy-efficient kilns which promote heat recovery, which improve our CO2 balance by reducing the gas consumption used when producing grinding media, and feeding recovered heat into the building for warmth.
We are currently implementing a new, modern office concept, which will allow us to integrate two departments from the Bad Staffelstein site into the Untermerzbach site – without space-consuming and resource-intensive new buildings.