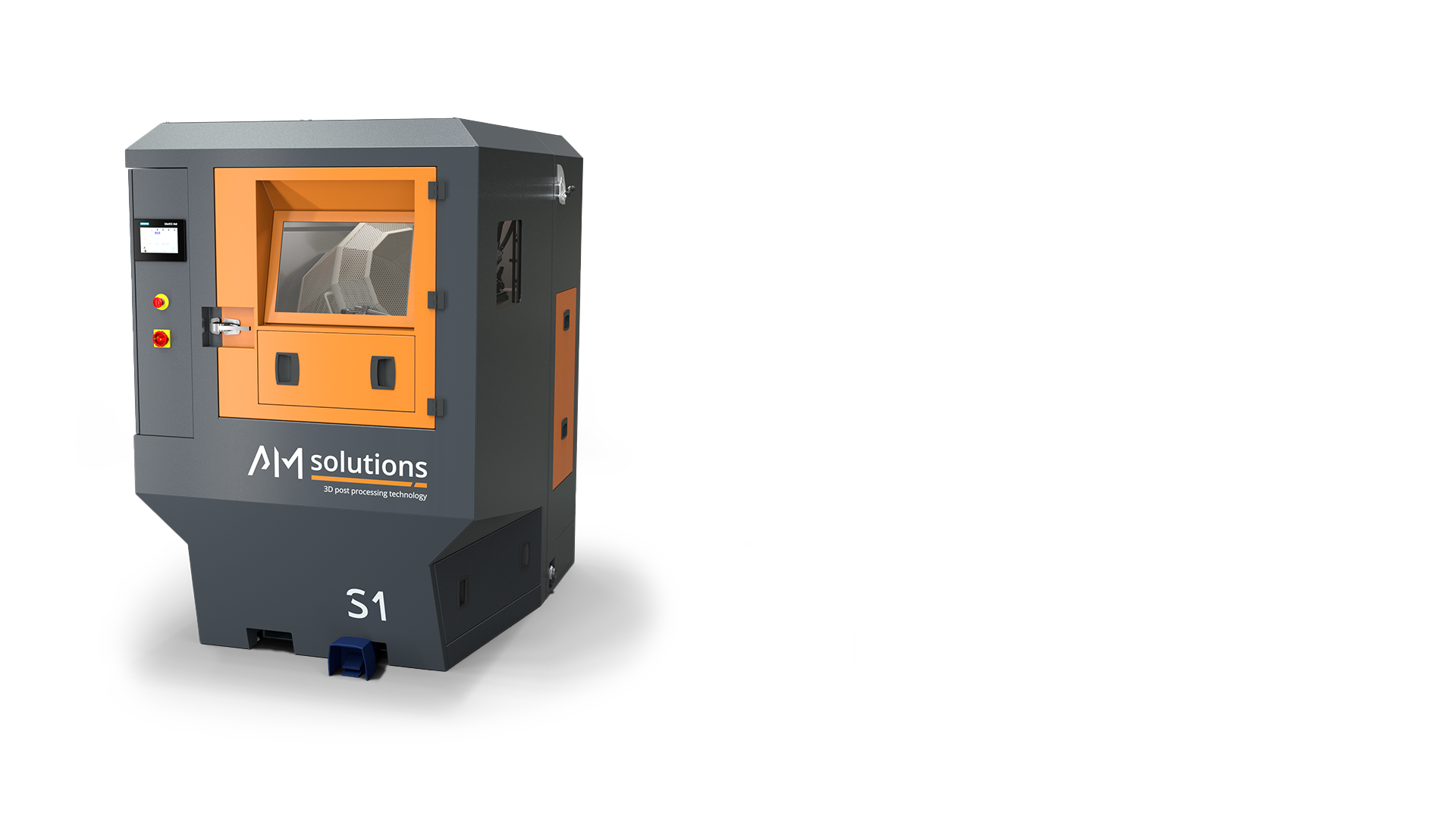 The smart multi-talent for cleaning and surface finishing
The new generation of S1 sets new standards for the post processing of parts from powderbed-based polymer printing processes. The smart plug-and-play solution impresses by being able to perform cleaning and surface finishing all in one self-contained unit. Furthermore, it is also suitable for the surface finishing of de-powdered metal components made from non-reactive metals.
Beside automatic or manual shot blasting, the S1 is capable of automatic and effective removal of residual powder after printing. The constant rotation of the work pieces during the cleaning process ensures repeatable and consistent shot blasting results. The ergonomic design, combined with a process-optimized nozzle placement for automatic operation, rounds off the overall package.
Thanks to its compact and robust design, this multi-talent can be easily integrated into any production environment and offers maximum reproducibility, traceability and cost efficiency.
Key features:
2-IN-1 Solution for cleaning and surface finishing with easy blast media exchange
Improved basket design for optimal distribution and tumbling of the parts
Specially developed wear protection lining made of non-staining anti-static polyurethane
ATEX conformity
Ergonomic and safe machine operation
Quick changeover from manual to automatic processing
Automatically swiveling blast nozzles for contamination-free loading and unloading
Movable tumbling basket allows for easy loading and unloading though the large front door. Even in the loading position the basket remains completely within the blast chamber to prevent powder spillage.
Media conditioning system for maintaining consistent blast media quality and sizing
Industry leading process monitoring and visualization thanks to state-of-the-art software and hardware
Specifically developed for polymer powder bed based technologies
Software controlled process automation with up to 30 recipes
Optimized air flow for minimum powder deposits in the blast chamber
Developed in collaboration with industry leading 3D printing experts
Industry 4.0 ready
"I have carefully studied the offers of numerous suppliers. But in the end I decided to purchase the S1, because it offered the highest operational flexibility. It significantly reduced the time required for post processing. Previously manual blasting of a full load of midsize components required about 5 to 8 hours. Today we only need about one hour for the same process, including unpacking".
Torsten Wolschendorf, General Manager Prototec
Discover our
S1 in 360°
Mouseover Zoom loading...
Cost-efficient, high-quality and reproducible post processing is your topic?
We have the best solution for you!